Behind the history of industrial products lies the history of the men who created them.
To appreciate it, is to understand the times we live in.
KARL ABARTH, THE MAN AND HIS STORY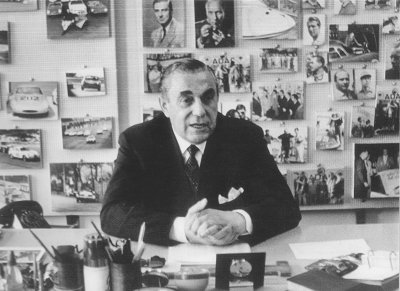 Karl Abarth was born in Vienna on November 15th 1908, son of Dora and Karl Senior. When he was 11 years old, showing courage and determination, he once challenged his friends to race down a slope on his scooter: he didn't win, for his pals were much older than him. Then he had a brilliant idea: by cutting his belt and tying it to the wheels, he they could outstrip normal ''production'' ones in grip and smoothness. This "elaboration" looked like a sign of things to come, allowing Karl to beat his mates. He remained in Vienna with his mother, as his father left for Merano to manage his grandfather's hotel, the Sonne. Karl Senior quickly becomes an Italian citizen.
At 15 Karl Junior, tall and rugged, had a passion for racing bicycles, something he did pretty well. At school he was good at subjects which required inspiration and imagination, namely drawing. At 16, while he was testing a friend's motorbike, he crashed into a wall. That was not a problem for him: he already had a passion for mechanichs and reparing. During his spare time, he learnt the basics of engineering at the Degan garage in Vienna, a workshop which specialized in precision manufacturing.
At 19 he was employed by the racing division of Motor Thun in Traischkirchen, a factory devoted to producing motorbikes marked by the letters "MT". In 1927 Karl built his own bike, by assembling parts from various makes. One year later, he was asked to race at the Austrian Grand Prix: he managed to qualify on pole, but retired during the race. Later that year, he was a winner at Salzburg. He could easily be defined as a promising talent in motorbike racing. Meanwhile, as his mother passed away, was able to employ his inheritance in the construction of sidecars. In 1934 he used one of them to challenge the Orient Express train in a speed contest. On the first round he lost 15 minutes, but during the return journey he succeeded in beating the train, thus gaining enormous publicity. From 1934 to 1938 he was a professional sidecar racer: he was often a winner, mainly thanks to his invention in 1935 of a flexible car. In 1934 he married Anton Pïech's secretary. Pïech happened to be the husband of Louise Porsche, daughter of the great motoring genius Ferdinand Porsche. In 1938 he raced for the Italian colours, as he was son of an Italian citizen.
In 1939, at Lubjana, a serious accident would crush his career for ever: he stayed in Jugoslavia, where he worked as a mechanic in order to convert engines to coal combustion, an essencial source of power during wartime. In 1945 he managed to be reunited with his fathere in Merano, where he changed his firstname into Carlo. He became a trader of carpets and bicycles until 1946: only then he was to recover contacts with "Ferry" Porsche, son of Ferdinand, who was determined to have Carlo amongst the technicians he chose to represent the German company in Italy. With him was Rudolph Hruschka, a talented engineer. Together they headed a project for a Gran Prix vehicle commissioned by the Turin entrepreneur Pietro Dusio, manager of Cisitalia. The income for the project would have been devolved to the release of Ferdinand Porsche, who at the time was held prisoner in France. Abarth himself took part to the negotiations. Cisitalia would then go on to produce the D 46 single-seater and the 202 Sport and GT. Designed by Dante Giacosa and Giovanni Savonuzzi, they shared success and the same Fiat 1100 engine. However, the enormous expenses required for the 360 Grand Prix, seriously undermined Dusio's financial situation. Abarth was forced to leave the firm, taking with him as a pay off all the 204 Sports built under his supervision, together with a few boxes of parts. Amongst them was an exhaust pipe studied by Giovanni Savonuzzi, inspired by the mechanism of gun silencers.
It was to become, on the 31st March 1949, the trademark of the newly founded "Abarth & C." company, based at 9, via Don Minzoni, Bologna. The company's emblem was chosen to be the scorpion, Carlo's zodiac sign. On the 15th April 1949, the "Squadra Carlo Abarth" was born: it lined up all the 204s. On the 10th April 1950 Tazio Nuvolari won the "Palermo-Monte Pellegrino" behind the wheel of a Cisitalia-Abarth 204. It was the consecration of the Scorpion in the world of motor-racing. Carlo, however, as a good entrepreneur, knew the importance of car production: in 1950 he sold over 1000 exhaust systems. On April 9, 1951 he moved the company's headquarters to Torino, at 10, via Trecate. It was during those days that relationships with Fiat became consistently stronger. In 1956, as a further sign of quality, Abarth exhausts were fitted on works Ferraris. At the end of the same year, sales exceeded hundreds of thousands. Meanwhile, the popularity achieved by the Fiat 600 gave Carlo the opportunity to transform the citycar into the "750", a tiny bomb designed, engineered and produced with industrial rigour. Victories became countless. From the 750, Carlo built a GT designed by Zagato: it was the first in a series of ever more sophisticated cars, which culminated in the majestic 6 litre prototype and the 2 litre cars that won the "Campionato Europeo Marche".
In July 1957 Fiat introduced the new 500. Abarth elaborated it: the following year the company would enable it to break many International records. During the same year, the factory's head offices were moved to a larger location, in Corso Marche 38. In 1961 the Fiat 600 D was the basis for the Abarth 850 TC, a car which would further increase the company's success both in sport and sales. Everybody now wanted to "Abarthize" their car. In 1967, a year characterized by international crisis, Fiat bought 50% of Ferrari, the whole of Autobianchi and Lancia. Abarth resisted. In 1971 it designed the "Formula Italia" single seater, together with the Autobianchi A112 Abarth. Activity was at a high, employees were just short of 200, and the production of exhausts recorded around 200,000 items per year. However, the worsening in International economy forced Abarth to give in to Fiat's offer. The Scorpion was bought on October 15th, 1971. For a few years, Carlo retained his position as a consultant for Fiat, eventually retiring to Vienna for the rest of his life. His strong build, however, could not withstand a deadly illness. It was the 24th Ocober 1979, another date under the Scorpion's auspices.
Writer: Elvio Deganello
Permission to reproduce article granted by: GIORGIO NADA EDITORE
Thanks to Brian Berni for the English translation
Berni Motori
When Fiat officially took over Abarth & C in 1971, all parts and remaining cars were handed over to Enzo Osella, an ex-Abarth mechanic and technician, who planned to continue building and development of Carlo's beautiful creations. Fiat were not interested in any of Abarth's then current model line-up but were going to concentrate on a completely new form of motor sport for Corso Marche: rallying and consequential promotion of the new 124 and 131 Rallye models.
For the next few years owners and campaigners of Abarth racing and road cars had to depend on dwindling supplies of original spare parts which could still be found at ex-official parts suppliers and preparation shops alike. By the late 70s and early 80s these supplies had mainly dried up and by this time people were aiso beginning to finally realize the value and "collectibility" of historic Abarths but found there was no longer a continuous and reliable source of' parts to rebuild or even just keep their cars running.
Enter Anthony Berni. After moving to Italy in 1979 to take up a post in Ferrari's racing department at Maranello, British-born Berni worked with the "Commendatore" for two years gaining invaluable experience on how a professional racing team was run but even more important on where to source spare parts, services and knowhow for top quality racing products. In 1981 Berni decided to "go-it-alone" and set up business exporting spares for Italian historic and collector cars such as Ferrari, Maserati, Alfa Romeo and to a lesser extent, Abarth.
A meeting with Leo Leo Aumuller, fabled German collector of Abarths, changed Berni's life and strategy of his young company. Aum&uumlller had gone to Italy to inspect a cache of Abarth parts which Berni had found at an ex-tuning shop in Milan and after purchasing most of them, he invited Berni to visit his collection of cars in Germany. When Berni saw the Aum&uumlller collection he remained naturally overwhelmed and things just started happening from there. A 1000 TC Berlina Corsa was purchased by Berni as a restoration project and after searching for original parts to restore the car and discovering there was hardly anything to be found, he began remanufacturing many missing items for a large range of historic Abarths including 595 / 695 / 750GT / 850-1000TC / TCR / MONOMILLE / BIALBERO / SP / OT and so on.
Berni was not satisfied with just reproducing parts to original spec and where possible using the original manufacturer and tooling to do so, but also wanted to put these parts to the test, the "ultimate" test: the race track. Berni Motori racing was thus formed and has been campaigning its 1000 TCR and 1000 SP models successfuliy for a number of years in the Italian Historic Car Championship. Invaluable experience has been gained on the track and subsequently transferred to parts production so that clients enjoy the benefit of tested and proven material.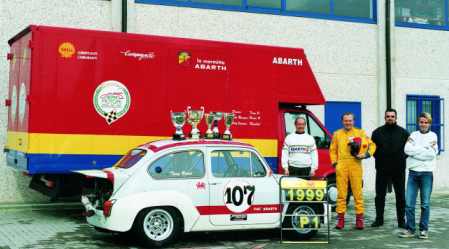 Corso Marche is still there and the original Abarth facility can still be seen even though part of it has been demolished to give way to a new, smart, Lancia Dealership. If you want to purchase parts however for your historic Abarth - the right parts -then you must visit Via Monte Vioz in Maleo or contact us by phone.
This year is BERNI MOTORI's 30TH ANNIVERSARY!
Thanks to all our clients past, present and future and we hope to continue giving them reliable and honest service for many years to come. Long live the name of Abarth and "le piccole macchine con gran brio.."