9° HISTORIC TRACKDAY
VARANNO DE' MELEGARI VENERDI (FRIDAY) 21 GIUGNO (JUNE) 2019
DALLARA FACTORY VISIT
We have organized a visit to the Dallara factory on Thursday afternoon (June 20th).
Access to the Paddock at Varano will be approx. 17:30-18:00 h, therefore - for those of you who arrive early - the visit will commence at 16:00 h. and finish at 17:30h.
The visit will be divided into two parts: 45 minutes at the Dallara Academy / Museum and 45 minutes at the futuristic aerodynamic division (the world's most advanced facility).
The cost of the visit is Euro 20,00 / person. It is
imperative
that you confirm before June 1st because of number limitations.
THOSE WHO DO NOT CONFIRM BEFORE THE DEADLINE WILL NOT BE ADMITTED!!!!
Please email:
info@bernimotori.com
for any questions.
Further info on Dallara and the Academy can be found here:
https://www.dallara.it/wps/portal/it/azienda/Sedi/Dallara--Academy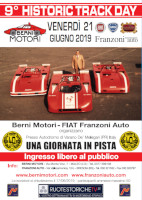 GENERAL RULES

ENTRIES

PROGRAMME

HOSPITALITY




DISCLAIMER


The Liability Release Form must be completed both by driver and eventual passenger. It can be downloaded and filled out but must be presented in original during Signing-On Friday 21st June between 8,00am and 9,00am.

ENTRY FORM
OR
ONLINE ENTRY FORM